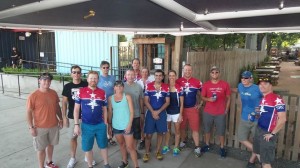 Saturday was the Avery Ranch Loop and there was about 16 riders and it was a fast ride.  The group split when there was a flat tire and about 4 riders stayed back.  The second group picked up a couple more riders on the way and we all came back together.  Bob Brown was riding with the faster group and when he got to a stop light he started feeling dizzy and his heart rate monitor was showing some really high numbers.  Thomas drove back and picked up Bob and took him to urgent care.  He then went to the hospital where he has been for the past couple days.  I think they determined that he was having atrial fibrillation.  His heart is strong but it is beating abnormally so they are working to get it back to where it should be.
Sunday a few of the guys did a father's day bike ride and went out for some coffee.  It was a nice flat 40+ miler.
NEXT WEEKENDS RIDES
TRIPLE B's – Saturday June 21st at 7:30am
The ride is scenic and it follows around the lake via lime creek and volente and there is about 2,100 feet of climbing. While we do our best to keep the group together you will need to have a certain level of riding experience and conditioning to stay with the main group or else you may get left behind.  There is no designated sweeper for our Saturday ride.
We will bike out from out of Steiner Ranch and make the climb out to the 620 via the Steiner Ranch Steakhouse route then head down the 620 and make a left on Anderson Mill Rd. and then another left on 2769 (turns into Volente Rd) and head into Volente Village.  When we get to Volente Village we will make a right turn up the hill on Lime Creek Rd. towards the TRIPLE B's.  After we get to the end of Lime Creek we make a right on Anderson Mill Rd a left on Zepplin and then a right on Sun Chase all the way back to Anderson Mill  and then back to 620 and back to Steiner Ranch.  Cross the 620 onto Steiner Ranch Blvd. back down to Cups & Cones.
Again, the ride is about 40 miles and we can add another 10 if we go to the Crystal Falls Golf Course. Depending on who shows up we might have to break the group into an A group and a B group.  The A group will average between 19 – 21 mph and the B group will average between 17 – 19 mph average.  Please see the course below:
STEAKHOUSE / JACK & ADAMS RIDE – Sunday June 22nd at 8:30am
On Sunday June 22, 2014 the Steiner Ranch Cycling Club will be riding on the Jack & Adams / Steiner Ranch Steakhouse Ride.  The ride begins from the Steakhouse and leaves promptly at 8:30am so we recommend that you arrive at 8:00am.
The ride goes out to Crystal Falls golf course and back and there is a beginner, intermediate and advanced ride. There are two distances and one is about 12 miles and the other is about 32 miles. They have changed the ½ priced brunch menu and they have gone to an all you can eat buffet. I don't know if they will be offering the group any discounts but there will still be live music and it should be a nice morning to sit under the mister and enjoy the music, food and view. Come one come all.