Saturday was reported to have a pretty good turnout.  Everyone mostly stayed together for the Avery Ranch loop, but the group split at Parmer and Avery Ranch so that some could go on to do almost 80 miles by adding on the newer section of Ronald Reagan as well as Liberty Hill. Although the group was rained on, they had a blast averaging near 20mph over the entire ride.
Sunday started off with nasty weather reports and only 5 of riders attended for a very short, wet ride.
Please mark your calendar for June 7th as we will be doing the Jester King Brewery ride again.  It is going to be a lot of fun and it is an all Clubs ride so we hope to have all Clubs in Austin in attendance.  For more details go to the Events Calendar www.steinerranchcycling.com
Reminder that the Traffic meeting at the Steiner Ranch Elementary school this Thursday.  Hope you can join.  They will probably eliminate the shoulder of the road and not provide any pedestrian nor bicycle access.
This Saturday there is the Awesome Atlas Ride which many of the club riders are going to be doing. I'm going to stick around Steiner Ranch so if you want to stay local please meet at Cups & Cones and we can come up with a local route.
ATLAS RIDE – Saturday May 31st
Join the 2014 Texas 4000 team on the first day of their 70-day cross-country ride from Austin to Anchorage! The ATLAS Ride is open to the entire community and is the perfect way to show your support without committing an entire summer to the effort!
Course distance options include 25, 50 and 70-mile routes and full SAG, rest stop and mechanical support will be provided. The 50 and 70-mile rides will kick off at Running Brushy Middle School in Cedar Park at 8am and will conclude in Lampasas at Pillar Bluff Vineyards. The 25-mile ride leaves at 10am from Pillar Bluff Vineyards and ends in the same spot. The post ride celebration includes BBQ, live music and more!
http://www.texas4000.org/atlas/about
OR –
MYSTERY RIDE – Saturday May 31st at 7:30am at Cups & Cones
As many of you know this weekend is the MS150 ride so let's wish those participating in that ride a great weekend of riding. We will also have our standard ride out of Steiner Ranch so please show up at Cups & Cones and vote on the ride for the morning. Should be a great morning for a ride.
HULA HUT – Sunday June 1st
Please join us for a fun Tour de Cure kickoff ride.  Meet at Hula Hut at 7:30am for a complementary breakfast then wheels down at 8am.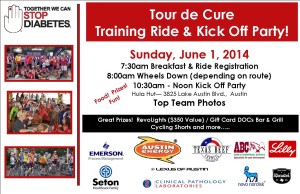 SUNDAY SOCIAL RIDE – Sunday June 1st at 8:30am at Cups & Cones
On Sunday the Steiner Ranch Cycling Group (SRC) will roll out from Cups & Cones at 8:30 am this Sunday morning for either the Tour de Steiner Ranch or Ski Shores or some other mystery ride.  Typically we stay in Steiner Ranch.  This is a NO DROP RIDE.
ROUTE:
or