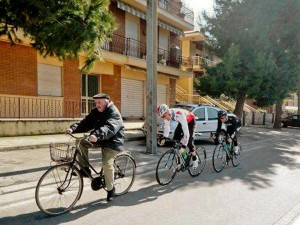 What a great weekend of riding! 
The Saturday ride was really fun and we went down to Mellow Johnny's via the scenic route and came back via shoal creek.  The ride was over 60 miles round trip and we had over 3,000 feet of climbing.  Andrew and Phil did the COTA ride at the race track.  According to Strava they had some great times.
The Sunday ride was fun as well and we went to Ski Shores and the morning was nice.  The ride was about 25 miles and we had a very nice ride.
SPECIAL ANNOUNCEMENTS
Labor Day Ride  – Some people are going on a short easy ride.  If you are interested in this last minute ride please meet at Cups & Cones at 8 am for a 30+ mile mystery ride.  Chris and Biff were looking to ride with some people and they told me they will be there to meet anyone interested in a ride.  I can't make the ride tomorrow morning.
Kristofer Rennard – For those of you following Kris's story here is a link to his crash at Hotter n Hell:  http://www.youtube.com/watch?v=Ix2Nsonr1kA
Again if you want to learn more please feel free to contact David Guthrie (daddyoguthrie@hotmail.com) or Thomas Lea (thomaslea@gmail.com) 
NEXT WEEKENDS RIDES
AVERY RANCH ROUTE – Saturday September 7th at 7:30am at Cups & Cones
Since most of us doing the Tour de Cure on Sunday we will be doing a lighter version of the ride.  So there will be the standard fast group but there will also be slower group that will be going shorter distances.  We will ride between 45 – 55 miles depending on the route and group you choose to ride with.  We will roll out of Cups & Cones at 7:30 am morning and we will head out to AVERY RANCH. 
The ride is going to be flat.  While we do our best to keep the group together you will need to have a certain level of riding experience and conditioning to stay with the main group or else you may get left behind.  There is no designated sweeper for our Saturday rides but again this Saturday we will have two groups so there should be a pace for most riders.
Below is the route we will take on Saturday.
ROUTE:
TOUR DE CURE – Sunday September 8th most of us will be riding in the Tour de Cure.  They have distances ranging from 22 to 93 miles.  Our Tour de Cure team has raised over $36,000 for a cure for diabetes. 
OR
TOUR DE STEINER RANCH – If anyone wants to ride in Steiner Ranch just meet up at Cups & Cones at 7:30am and go for a ride. 
ORGANIZED UPCOMING CLUB RIDES
LIVESTRONG – Sunday October 20, 2013 We have our LiveStrong team set up as well and if you want to get a head start on your fund raising and training for this event as well you can join our team at http://laf.livestrong.org/goto/Beef  Fron what I'm told they will be doing the same course as last year.