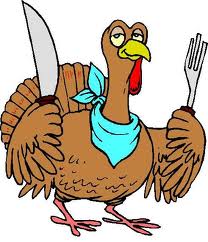 RECAP LAST WEEKEND
Saturday ride was cancelled due to wet roads, rain and frigid temperatures.
Sunday ride was cancelled due to wet roads, rain and frigid temperatures.
Since all rides were cancelled this past weekend let's try the same routes out this weekend.   The extended looks good with temps in the 60's / 70's.   I hope everyone has a great Turkey Day!
STRAVA HIGHLIGHTS
The Strava highlights for last week by category are as follows (need to ride over 75 miles in the week to be included in stats below):
Distance                    Jeff D.                                    75.9   Miles
Mountain Goat       David A.                    2,359 Feet
Speed Demon         Jeff D.                                    18.2 Mph over 76 Total Miles
NEXT WEEKENDS RIDES
AVERY RANCH ROUTE – Saturday November 30th at 8:30am at Cups & Cones
On Saturday the Steiner Ranch Cycling Group will be heading out for an approximately 55+ mile bike ride that will roll out from Cups & Cones at 8:30 am morning and we will head out to AVERY RANCH and head back via Crystal Falls.
The ride is going to be fairly flat and fast.  But we deserve flat after the Jester King Brewery Ride.  While we do our best to keep the group together you will need to have a certain level of riding experience and conditioning to stay with the main group or else you may get left behind.  There is no designated sweeper for our Saturday ride.
There will be a faster group travelling at speeds of 18-20 mph over the course of the route and we will also have less faster group travelling about 15-17mph.  Again there is no designated sweeper.
ROUTE:
TOUR DE STEINER RANCH – Sunday December 1st at 8:30am at Cups & Cones
On Sunday the Steiner Ranch Cycling Group (SRC) will roll out from Cups & Cones at 8:30 am this Sunday morning for the Tour de Steiner Ranch.   We will keep it in Steiner Ranch this weekend to keep it simple this week.
The Tour de Steiner Ranch is a fun ride all around the picturesque landscapes of Steiner Ranch. We will cycle through the UT Club, by some lakeside estates, down to Lake Austin, through some neighborhoods and on some country roads.
The ride is about 24 miles. Again, I consider this an easy ride with the exception of some hills which could be considered challenging.  The below link is our typical route but lately we have been doing shorter distances and flatter.  We can also take a vote on Sunday morning.
ROUTE:
OTHER ANNOUNCEMENTS
Turkey Trot is a free run that will starts from John Simpson Pool at 8am on Thanksgiving morning.  There will be distances ranging from 1 – 6 miles.  Come run, walk or pull a wagon with your kids.  If you like you can bring 1 or 2 can goods which will be donated to Capital City Food Bank.
CHARITY & OTHER CLUB RIDES
MS150 – Houston to Austin (2 Day 150 miles)
The MS150 Team BEEF is open to all Team Beef members.  The ride is on April 12-13, 2014 and starts in Houston and ends in Austin.  The ride has over 10,000 participants and has an entry fee of $100 with a minimum fund raising requirement of $400.  So join now and start your funding raising.  This is an approved Beef ride and we will have a single team for anyone in Texas that is on the Beef Team that would like to participate.  Below is a link to join our team.
http://main.nationalmssociety.org/goto/BEEF
Tour de Cure – 2014
Our 2013 Team helped raise over $46,000 for the American Diabetes Association's fight against diabetes.  Our team was ranked 19th in the nation.  For those of you that are planning on riding in the 2014 Tour de Cure (Austin) you can join before November 29th and there is no cost if you use the code THANKS2014.