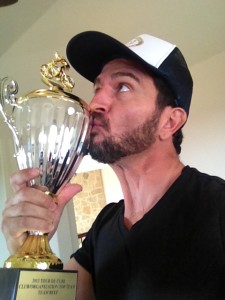 RECAP LAST WEEKEND
Saturday we had about 16 riders that showed up for the Avery Ranch ride.  The weather was perfect.  Andrew Struck filmed some cool footage of the group cruising down the road.  You can go to our Facebook page to see the film.  We also sung Happy Birthday to Thomas Lea all while riding our bikes.  That was a first and probably will be a club tradition going forward.
Sunday there were about 9 riders that showed up and they rode out to Ski Shore and back.
JESTER KING BREWERY REMINDER – It's Next Saturday!  Details can be found at https://steinerranchcycling.com/jester-king-brewery-ride-ii/
MS150 TEAM – The MS 150 is a two-day fundraising cycling ride organized by the National MS Society. The ride will be in April 2014 but we have already set up a team.  You can start your fund raising now and join our team at http://main.nationalmssociety.org/goto/BEEF
TOUR DE CURE – Congratulations to everyone that road on our Tour de Cure team this year.  We were the top fund raiser in Austin with over $45,000 raised for the American Diabetes Association.  I have the team Trophy displayed at my bike studio and anyone is welcome to come by and take a picture with it. J
STRAVA HIGHLIGHTS
The Strava highlights for last week by category are as follows:
Distance                    Eric Watson             152.6 Miles
Mountain Goat       Thomas Lea              8,993 Feet
Speed Demon         Andrew Struck        18.7 Mph over 151.1 Total Miles
NEXT WEEKENDS RIDES
You will have three rides to choose from this Saturday.  Steiner Ranch Cycling Club Ride, Tour das Hugel and Thirsty Planet
SCIENIC LOOP – Saturday November 9th at 8:30am at Cups & Cones
This Saturday the Steiner Ranch Cycling Club we will be doing the Scenic Loop.  The ride is about 56 miles round trip to and from Cups & Cones.
We will probably have two groups.  We will have a faster group that will average about 18-20 mph and a slow group that will average between 15-16mph.  That being said there is no designated sweeper behind me so you need to keep up with me at a minimum or you will be dropped.
There will be about 3,600 feet of climbing and you can add about another 500 feet by adding the Cuernavaca loop on the way back.  The route basically takes us down 620 to Anderson Mill to Spicewood to Jollyville to Mesa to Mt. Bonnell through Tarrytown on Scenic into downtown.  We will take a fluid break at Mellow Johnny's and head back to Steiner Ranch via Shoal Creek.
Please print out the below route if you are not familiar with the area.
ROUTE 1 (on the way downtown to MJ – same as Route 2):
ROUTE 1 (on the way home via Shoal Creek):
OR
TOUR DAS HUGEL – Saturday November 9, 2013 
This ride has 12,000 feet of climbing over 108 miles.  You will tackle almost all of the toughest hills in Austin.  The Tour Das Hugel now has a site with the route at http://www.dashugel.com/   The route has two loops around Austin and if you a single loop if you can get 50+ miles with over 6,000 feet of climbing.
OR
THIRSTY PLANET BLAST OFF – Saturday November 9, 2013 
Bicycle Sport Shop is proud to partner with the Thirsty Planet Brewery to bring you this metric-century hammerfest, starting and ending at the brewery. Earn your wings on this 62-mile ride that includes portions of your favorite hill-riding challenges, such as the Dam Loop and Lost Creek, combined with some new twists and turns. Of course you'll be motivated to cross the finish line, knowing that ice-cold Thirsty Planet brews and hearty burgers will be waiting for you there.  The cost to register is $60 and is limited to the first 250 riders.  You can register at http://blastoffride.com/
Ski Shore – Sunday November 10th at 8:30am at Cups & Cones
We will still leave from Cups & Cones and we will ride out to Ski Shores.  The ride is about 25 miles and about 2,000 feet of climbing.
This is a NO DROP ride and is fun but you should be able to average 14 – 15 mph.   There are always a couple road demons if you want to go a little faster.
ROUTE:
CHARITY & OTHER CLUB RIDES
JESTER KING BREWERY II CLUB RIDE – Saturday November 16, 2013  Dustin Dunnham and I are working on organizing another ride in November.  The date is confirmed for NOVEMBER 16th.  Don't miss this ride!  We had about 140 riders last time and all club riders in Austin are invited.  This will be a FREE ride except for any donations you want to give to Cycling Swami for driving SAG.  He did an awesome job last time in supporting all of us.  You will also need some cash for beer and wood oven pizza.
That being said, www.CyclistLaw.com has sponsored us for $300 worth of pizza so that probably translates into the first 60 riders to finish.  So there will be an incentive to ride quickly or else you will be buying your own pizza.
DIRT DERBY – Every Tuesday between October 1st – December 17th  This appears to be a fun weekly ride for those that like to go fast and get a little dirty.   They offer rides for kids / juniors, beginner adults and more competitive MTB and Cyclocross enthusiasts.  You can learn more at www.dirtderby.com
MS150 – Saturday and Sunday April 12 – 13, 2014  The BP MS 150 is a two-day fundraising cycling ride organized by the National MS Society.  It's not the miles that matter — it's the unforgettable journey.   Steiner Ranch Cycling Club will be setting up a team in October so people can start signing up.  The ride starts in Houston and finishes in Austin.  We are working on some sponsorships right now so we will get back to you soon with details on all the cool stuff we are going to get.  This ride will cost $100 to register for and you will have to raise $400 in donations.  If someone raises more than $400 they will be able to shift there excess funds to another rider that has not hit their limit.  This is a Beef Team approved ride so 60% of the entry fee can be reimbursed.  More details to come over the coming weeks.
RIDE AT YOUR OWN RISK!