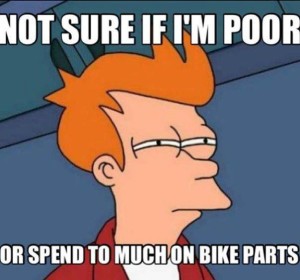 What great riding weather we had this past weekend.  The cooler weather made for more comfortable riding.
The Saturday ride was light on attendance because of weather but it ended up be really nice and cool.  We started with 12 riders and we headed down to Mellow Johnny's and then back via Shoal Creek.  The group for the most part held together for most of the ride.
The Sunday ride was the Steakhouse and Jack & Adams ride.  Again, perfect weather and we all had a great ride.  SRCC was well represented but overall the attendance for the ride was lower than normal and I think it was because they normally do the ride on the final Sunday of the month and they changed it up this month.
Jester King Brewery II Club Ride is on again.  Mark your calendar for November 16th.  See details down below.  This will be FREE ride and pizza will be provided to our first 60 riders.  Pizza sponsored by www.CyclistLaw.com
Website Update  Check out the awesome Strava functionality on the side bar of our website.  Thanks Dustin Orrick for adding that.  Anyone can join our club on Strava too.
NEXT WEEKENDS RIDES
COZY COVE – Saturday September 28th at 7:30am at Cups & Cones
This ride will leave from Cups & Cones at 7:30 am and heads out towards Lakeway over the dam on 620 and then we make a right on Lakeway Blvd  and then left on Highland then right on Bee Creek Rd. all the way out to Pedernales and back.   It is about 45 miles round trip and over 3,000 feet of climbing.
As always we will do our best to keep the group together but there is no designated sweeper for this ride.  I typically bring up the rear but that pace is still about 15mph + average and the faster riders will be averaging 20mph.
Below is a link to the map of our ride.
Ski Shore – Sunday September 29th at 8:30am at Cups & Cones
We are changing the start time for our Sunday ride to 8:30am.  Again Saturday's ride is still at 7:30am.  We will still leave from Cups & Cones and we will ride out to Ski Shores.  The ride is about 25 miles and about 2,000 feet of climbing.
This is a NO DROP ride and is fun but you should be able to average 14 – 15 mph.   There are always a couple road demons if you want to go a little faster.
ROUTE:
SPECIAL ANNOUNCEMENTS
Steiner Ranch Running Group  I was asked by Sonya Manson who rides with our Sunday group has started a running group in Steiner Ranch.  You can learn more at www.gilbertsgazelles.com or contact Sonya directly at sonyalynnmanson@gmail.com  I think they are doing runs for beginner and intermediate runners.
City of Austin Bike Registration  Not sure if anyone has used this before, but a two minute registry can at least help you get your bike back if the police recover your stolen bicycle.  Thank Dustin Orrick for sharing.
http://www.austintexas.gov/page/bike-registration